Select a Major
Lacrosse has become one of the more popular sports offered at Bridgton Sports Camp. The program is built to improve your game, whether it's your first time picking up a stick or you're getting serious about the game. After 3 weeks of hard work on the field, campers go home with an improved skill set and confidence in their abilities.
The goal of the lacrosse program at Bridgton Sports Camp is to allow our campers to leave as better skilled, more confident athletes. We will help to develop a player's all-around game while allowing each camper time to focus on the position of their choice. We will work to improve their general lax IQ, emphasizing strategy, techniques, and teamwork. This understanding of the game of lacrosse will be taught through drills, intra-camp scrimmaging, as well as games against local camps. Our campers leave as better all-around players on the field and as more mature young men off of the field.
Josh Bailey
Lacrosse Director
Josh was a 4-year starter and the captain of the Houghton College Men's Lacrosse Team. During his career he amassed 32 goals, 16 assists and gathered 148 ground balls as a Houghton Highlander. Josh helped lead the program during its first four seasons within the NCAA Division III. 
While attending Houghton, he helped grow the sport of lacrosse as he coached for the FCA Northeast Club lacrosse program. Following his completion of his Bachelor's Degree in Physical Education and Health, he joined the coaching staff at Houghton, where he continues to help build the program. Bailey is looking forward to joining the staff at Bridgton Sports Camp and working with the campers throughout the summer to improve their game.
Our lacrosse instruction will cover the following skill set:
Catching
Throwing
Cradling
Shooting
Dodging
Checking
Defending
Attacking
Goalie Skills
Passing
Switching Hands
Face Off
Scooping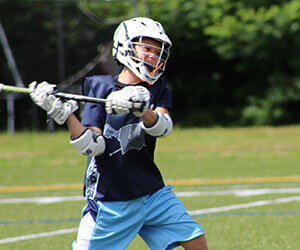 Majoring in lacrosse has made me a better lax players because of the talented coaching staff. I love the drills and games we play every day. Also being one of the younger campers and having some of the older campers help out has made me a better athlete.Chris (3-year camper from CT)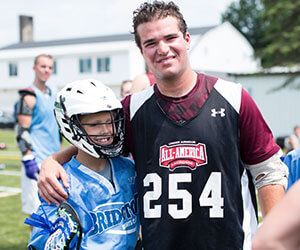 I started out as a camper and am now a counselor at BSC. The program at camp taught me what hard work was and BSC helped me achieve my dream of playing college lacrosse.Jake (6 years at BSC as camper/counselor)
**In Order to play in Lacrosse games at camp, campers need to bring all necessary gear.**