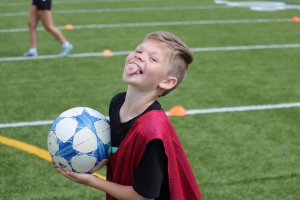 Camp is underway!
The foggy morning in Bridgton, Maine carried a sky full of sunshine as day three of camp started at 7:45 with the sound of the whistle. Campers scampered up the steep, concrete hill of Bridgton Academy to see what kind of delicious food was waiting for them in the Dining Hall. The menu read waffles, sausage, home fries, and some delicious donuts. The campers enjoyed what would be their meal before a jam packed day of sports, games, and other adventures.
Before hitting the fields, the campers walked briskly back to their dorms to clean their rooms and brush their teeth. Rooms must be pristine as they will be rated how clean it is by the division leaders of each age group. At the end of each week, we take the rooms from each division with the highest total room score into town on our brand new pontoon boat for a little bit of ice cream.
When clean-up is over at 8:55, everyone heads to their first activity to either perfect or become better at whatever sport they are participating in. As the day went on, the competition became more intense as campers played grueling games of basketball, flag football, lacrosse, soccer, ice hockey & baseball. In addition to these sports, campers were able to take breathers and hit the waterfront for some waterskiing, wakeboarding, fishing & canoeing.
As the day seemed to wind down, the Bridgton Sports League continued with a gigantic fun filled game of capture the flag, where teams combined together on two separate sides to compete. The night brought a wave of silence as campers got ready for bed, anxiously waiting for what adventures are to come tomorrow.
Yours Truly,
The Bridgton Sports Camp Staff